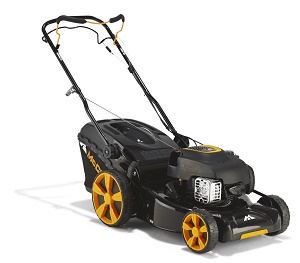 Although performance is not everything we need to consider when choosing a lawn mower it really should be high up there on our list of priorities. In the following McCulloch petrol lawnmower m46-125wr review we go into detail of both the performance of this mower as well as its other important features.
After reading through the various lawn mower user reviews/reports along with other information, the McCulloch M46-125wr has surfaced as one of my choices in the self-propelled petrol rotary lawn mowers category.
Apart from the performance of this mower other things I specifically like about it are, the Briggs & Stratton engine, the steel cutting deck, 18 inch cutting width and the easy deck washing facility.
As with most products there are always pros and cons that need careful consideration. Some more important than others certainly, but should always be evaluated nonetheless. In the review we will attempt to point these out in an effort to assist anyone contemplating purchasing a mower in this category.
See the McCulloch petrol lawnmower details here.
McCulloch M46-125wr Petrol Mower Main Features
Below are the main features that make the M46-125wr mower one of the top lawnmowers around. Perhaps not all the features would be required in a garden with a small lawn but would definitely be required in the larger ones.
Labour saving self-drive
Petrol driven for go anywhere use
Hard wearing steel deck
Long lasting ball bearings fitted to the wheels
Larger drive wheels at the back improves handling
Well renowned Briggs & Stratton engine
Rubber padded control handles
One adjustable handle heights – ranges from 30mm to 80mm
46 cm (18 inch) cutting width
Easy under-deck washing facility
Go Anywhere McCulloch M46-125wr Petrol Mower
Without doubt the main benefit provided by a petrol driven mower is the freedom to use it anywhere in the garden without the need of being close to an electric power socket. Those with a larger garden in general will stock up with petrol strimmer's and petrol hedge cutters for this very same reason.
Cordless mowers could also give this flexibility. Although the downside of battery power is that the battery charge will run out if the lawn area was fairly large.
Not so with petrol lawn mowers. These machines if they are of decent quality will work from dusk to dawn by simply topping up with fuel. It's little wonder that they are the choice of the professional gardener.
Labour Saving Self Propelled Lawn Mower
As mentioned above "They will work from dusk to dawn". Yes a petrol mower will work all day but could be very tiresome for the user if it were a push model. With a labour saving self-drive version this is not the case.
Apart from the ride-on mowers, the self-propelled mower must be the easiest of all to operate. Self-drive machines are also more than useful when the area to mow is on slopping ground. Pushing a lawn mower in this situation is simply looking for a heart attack.
The push mower designed more for the small garden where it would do absolutely fine providing the grass is regularly trimmed.
With the self drive mower the engine not only provides power to the cutting blade but also drives the rear wheels. To help improve performance the McCulloch M46-125wr mower has been fitted with long lasting ball bearings. This not only helps with reducing the power required to drive the wheels but these larger wheels also help to improve the handling.
Of course to finish of the lawn edges you could use a hand trimmer or arm yourself with petrol strimmer. This link will take you to my review of the best petrol strimmer giving excellent value for your money.
Hard Wearing Steel Deck Lawn Mowers
As more and more lawn mowers are moving over to plastic type decks it's good to see that the McCulloch m40-125 petrol mower has stuck to the hard wearing steel deck. Probably the plastic deck will be cheaper to produce but there is no way that it will take the same abuse as a steel deck.
It won't be the first time I have hit a stone laying in the grass unseen until the blade hits it and bangs it against the mower deck. Believe me when I say that it can be quite a frightening experience. I have even had a blade half in two parts and thrown against the mower deck.
All it takes is a previous collision with a stone which can crack or weaken the blade. The continuous cutting with that blade will tear at the crack or weakened area till it snaps in two.
If your lawn was regularly mowed then obviously there would be less chance of the above situation happening and a plastic type deck would probably work OK for you. Anyway I just thought I should point out what can happen. If in the event you should hit a stone, probably checking the blade for damage would be a good idea.
McCulloch Petrol Lawnmower with Briggs & Stratton Engine
The Briggs & Stratton engine is nowadays part of the petrol lawn mower lingo as it has been around for ages now. Users have come to love and trust these engines due to their hard wearing qualities and there reliability.
It's probably true to say that most petrol engines today should be able to perform well due to new improved technology. Providing of course the mower receives regular maintenance.
But it's hard to forget the reliability that these Briggs & Stratton engines have provided over the years. And it's excellent to see that this McCulloch petrol lawnmower has continued to use it.
Useful 18 Inch Cutting Width and Height Adjustments
Although a 46 cm (18 inch in old money) diameter cut may not be the largest it certainly is sufficient in most situations. Go much bigger than this and you start going into the commercial petrol mowers category. Fine if your garden is humongous.
But for most domestic situations the 18 inch lawn mower is a good size. Not too big to make it cumbersome to use in tight spaces yet big enough to complete mowing the lawns in a fairly short time. This size could even be used commercially for many situations and be sturdy enough to cope.
Height adjustment using of a single lever which ranges from 30mm to 80mm and should be fine for most users. The only situation that I can think about that a higher setting than 80mm would be required is if the lawn hasn't been trimmed for some time.
If you were to find yourself in a situation and faced with long grass to cut, the best method would be to take narrower cuts of say half the 18 inch width with the blade raised to the top height. Or even less than 9 inches if need be. A bit of trial and error will be required.
Easy Under-Deck Washing Facility
Probably not something you would use every time you mowed the grass but a handy feature nonetheless and it's always there when you do need it. Strange to see that there isn't anything on the product page explaining anything about this feature.
I certainly used the under-deck washing facility on the ride-on mower I worked on after each use. Certainly a handy feature as it would be almost impossible to lift these beasts into position to clean the under-deck manually.
It was fitted with two water hose connections as it was a twin deck machine and only took a few minutes to clean the decks of old grass cuttings.
If you have never used this under-deck cleaning method then you would be pleasantly surprised how easy the task is to perform. Simply connect a hose to the Hoselok type connection on the top of the deck. Turn the tap on and start up the mower.
The rotating blade propels the water at high speed against the under-deck to wash away all the cuttings. It is better to do this on a hard surface while moving the mower forward a bit at a time. Doing so will let you see if there are still any more cuttings being washed off or if the water is running clear. If clear then the job is complete.
Technical Data
The M46-125wr is powered by a 125cc 450e Briggs & Stratton engine with a rpm of 2900. To start this engine the fuel pump is depressed 3 to 5 times if starting from cold with the engine brake employed.
If you have visited the product page on Amazon the first thing that you will probably have noticed is the complete lack of product information. Not really of much help for those researching petrol driven self-drive mowers.
A bit of a shame really as many people who land on that page might quite easily hit the back button due to this lack of informative material. Had they moved down the page to the user reviews they might have lingered long enough to read about the helpful information supplied here.
McCulloch M46-125wr Review Results
The large majority of these user reviews are very positive with many of the users giving the McCulloch M46-125wr petrol mower a 5 star rating. The average rating works out at 4.2 from 5 stars provided by 31 purchasers of the mower.
Below are some of the comments users have used in their reviews. I have provided an overview of the most popular pros along with the cons these users have experienced with the mower.
Pros
Assembly was simple
The 18″ wide cut boosts production
Starts easily and works well
Liked the wash connecter
Reliable Briggs & Stratton engine
Don't have to struggle with hilly lawn areas
Cons
Cutting length was a bit high
Bigger and heavier than expected
Too fast for me to walk alongside
Mulching unit comes with mower, but nothing to explain about its use.
Other Choices from McCulloch
These range from push mowers right through to the various self-propelled models. Just be careful when choosing as some of these don't mention that they are push models, especially if you need a self-propelled model.
Take a look at more reviews about the McCulloch petrol lawnmower M46-125WR model at this link. To see the range of McCulloch lawn mowers go here.
Filed under: Rotary Lawn Mowers