Often after purchasing your grass strimmer the first question can be, what strimmer line to use with it. It's even possible you have gone ahead and bought the wrong type for your needs
A common problem is when the line keeps breaking off. When this happens it's usually because the strimmer line thickness being used is too thin. A heavy duty strimmer line will need to be used if the area being trimmed has long grass or stubborn weeds growing.
There are many choices of line available to us these days. They come in various colours, shapes and sizes. In fact enough to make the head spin for those just getting into using a grass trimmer.
The good news is that many of these lines will not be required for general garden use. A lot of them will be more suitable to the professional garden maintenance people.
That being said it's always a good idea to know what particular one will be best to work with your equipment and what you intend to trim down.
To help you understand what thickness of line you should be using I have divided them into 3 categories. Light work, medium and heavy work.
As a general rule:
To determine what strimmer line to use you need to take into account what type of growth you will be cutting down. Experience can certainly be gained with the more you use your trimmer although the following guide will get you started.
Light work thickness range from 1.2 to 1.4mm. See a selection here.

Medium type work could be done using 1.5 to 2mm line. View them at this link.

Heavy duty lines range from 2.4 to 3mm. Select your version.

Anything heavier than this is moving up to a commercial grade such as, 3.3 and the 4mm sizes.
If Your Strimmer Line Keeps Breaking
Mainly the type of garden or area that needs to be maintained will determine what type of trimmer you'll need. Once determined and your trimmer has been chosen then you're pretty much tied into which line you can use. So choose your equipment wisely.
Attempting to clear a rough area of long grass and heavy tough weeds will only succeed in destroying your equipment if not designed for such work. If light trimming wire were to be used, you would be spending most of your time stopping and starting due to broken and tangled line.
These tough jobs require tough tools fitted with tough cutters.
Light Duty Work
The image at the top of this page is for light duty trimming wire. It is rated at 1.2mm gauge and suitable for lighter trimming use.
See the post 5 Best Cheap Electric Strimmers for some examples of units you would use this type of trimming wire on.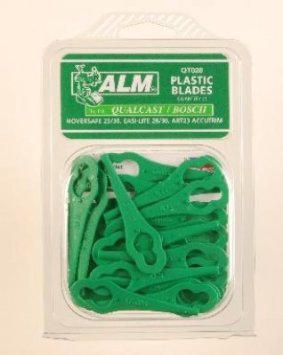 Light duties such as trimming lawn edges or light weed removal are fine for 1.2 to 1.4mm trimmer wire. Although if it were to be cutting up against a brick wall or over a concrete path it would wear much more quickly.
The image opposite features plastic blades which are used by some manufacturers.
These blades are used with the Bosch ART 23 Easytrim Accu.
It's a cordless version that uses a 14.4 NiCad battery. If you want to learn more about cordless strimmers, go here.
Medium Type Work
If the above situation of cutting against hard surfaces is something similar to your own situation you might consider moving up to a medium 1.5 to 2 mm strimmer line.
This heavier gauge would also be suitable to maintain areas that have longer grasses and weeds to keep in trim.
This spool is a heavier graded line of 1.5mm. It is used with the more robust Black & Decker GLC3630L20-GB. This model uses a more powerful 36 volt Li-Ion battery than the Bosch ART 23 Easytrim above.
This extra power will allow the cutting of heavier growth without draining the battery too quickly. This model is also featured at the link above.
Heavy Jobs need Heavy Duty Strimmer Line
Anything heavier such as long tough overgrown areas of grass, nettles and other tough weeds will be best trimmed with a heavy duty petrol strimmer. Preferably fitted with something like 2.4mm strimmer line up to 3mm heavy duty type.
The image opposite features the Timberpro brush cutter. This machine seems to be picking up some good reviews by users so I have added my own review to the site. Check out the best petrol strimmer for your money.
I'm using the image here to give you some idea what is required for heavy duty stimming.
Along with the pre-loaded stimming head they also provide 3 blades for cutting those tough brambles etc. I'm thinking this powerful tool could be used for many commercial situations and comes in at a very competitive price.
Moving on to commercial use there is a selection ranging from 3.3 to 4mm sizes mentioned earlier. These include serrated, twisted and also brush cutter blades. These will make light work of undergrowth such as brambles and thistles etc. Learn more about the strimmer blades available in this post.
What Strimmer Line to Use – Just Common Sense
Rather than having an expensive experience, weigh up what you are about to trim. If you have already made your purchase, check out the manufacturer's handbook that came with the tool. You should find instructions advising the type of trimmer wire most suitable to use with that particular tool.
If you are about to purchase a new lawn trimmer, then check out the different situations above to ensure you buy what's most suitable for your needs both now and in the future.
Using both your eye and a bit of common sense will tell you what strimmer line to use for each individual job. The correct choice will save you money, time and many a headache. Check out the full selection here.
Filed under: Accessories