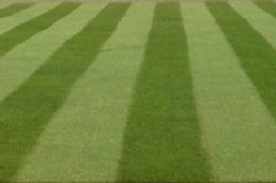 A newly mown lawn is always a treat to behold and often sets off the rest of the garden to the best advantage. Even more so when the finish has that attractive striped pattern. If the striped pattern is something that appeals to you then using a rotary mower with roller will work perfectly for you.
Both rotary and cylinder models are available with a roller, although I have chosen to concentrate on the rotary version in this particular article.
Other Benefits of Using a Rotary Mower with Roller
Other benefits obtained from a roller mower are. The ability to mow closer up to borders and smoothing out bumps and worm casts.
Mowing performed over time will help to flatten out a lawn with an uneven surface. You may have noticed when using a mower without the rear roller, damage can happen to the lawn if a rear wheel goes over the lawn edge into the borders.
The rear roller on a mower can allow you to mow along the edge of the lawn which will save on some of the edging work. It's often a good idea to raise the cutting height when doing this to avoid scalping the grass.
Another distinct advantage of the rotating blade is that it will cut through tougher and longer grass than a cylinder mower. But to be fair to the cylinder mower, the finish will be superior with its scissor like action.
A rotary mower will leave a striped pattern even without a roller, though not nearly so distinct. This is the result of the rotating blade pushing air down on the grass under the skirt.
More lawn patterns are possible when using a roller mower apart from the striped finish. You can emulate some of the more complex designs you may have seen at sporting venues or viewed on television. Obviously the larger the lawn area the greater the opportunity to create stunning patterns.
Power Options – Petrol, Electric and Cordless
You'll find a rotary mower with roller available in all 3 main forms of power. Electric choices are the lightest and petrol obviously the heaviest. Cordless models are also available if you prefer to rid yourself of electric extension leads.
There are situations you need to take into account when choosing your mower. Such as lawn size, distance from the house and power preferences. Most I covered in my post at this link which will help you choose your lawn mower.
Petrol Roller Lawn Mowers
The heavier the roller the more defined will be the stripes. The heavier rollers are more often than not, found on petrol models. Lifting a petrol mower around is not for everyone, depending on the model size of course.
With the added weight of a heavy steel roller it can often become a two man job. Fortunately most of these heavy mowers are self-propelled making them easy to use when either trimming the lawn or moving them from a, to b.
Some of the more popular self-propelled petrol lawn mowers with roller include:
Webb 17″(42cm) Petrol Lawn mower with Roller
Mountfield S421R PD 41cm Self Propelled rotary mower with roller
Hayter Harrier-41 16-inch Rear Roller Lawn mower
Honda HRX476-QX 19-inch Self Propelled Petrol Lawn mower
Push petrol models with roller include:
Hayter 617 Spirit 41 Push 41cm Petrol Mower
Webb RR17P Push Petrol Rotary Lawnmower 425mm Cut
Electric Lawn Mower with Roller
Suitable for adding a striped finish to the small to medium lawn is the electric rotary mower with roller. The smallest of these you could carry with one hand as they are very light weight.
The larger models will be that bit heavier as you would imagine. Even though the rollers on these models are invariably made of a plastic material.
The downside regarding electric models is that they don't come as self-propelled models. The upside is that they are a lot cheaper than their petrol counterparts which are more suitable for the larger grassed areas.
In any case they are a lot lighter and easier to push providing your lawn isn't on the side of a steep hill.
The more popular electric models are:
Mountfield Princess 42 Electric 4 Wheel Rear Roller Rotary Lawnmower
Hayter 615 Spirit 41 Push Rear Roller 41cm 1500W Electric Mower
Flymo Chevron 32VC 1200W 32cm Electric Lawn mower
Bosch Rotak models include; the 32R with 32 cm cutting width, the 37 Ergoflex and the 43 Ergoflex corded rotary lawnmowers
Today a big favourite among gardeners are the battery powered alternatives including these popular cordless strimmers.
This is mainly due to the big improvements in battery technology over recent years. The Bosch Rotak 43 li cordless lawn mower is one such example worth taking a look at. Read my review at this link.
More Bosch rotary lawn mowers *** can also be found here.
Other cordless models available apart from the Bosch Rotak 43 li mentioned above are:
These model numbers also denote the width of the cut in centimetres. The abbreviation LI tells us that it uses Lit-Ion batteries.
Bosch Rotak 32 LI Ergoflex Cordless 36 V Lithium Ion Rotary Lawnmower
Mountfield Princess 34Li 34cm Cordless 4 Wheel Rear Roller Lawnmower
Bosch Rotak 42 LI Ergoflex Cordless 36 V Lithium Ion Rotary Lawnmower
Having chosen your rotary mower with roller you're now ready to add that manicured touch to your lawn. Whether you decide to use it as a putting green, tennis court, bowling green or just for lazing in, enjoy it.
Filed under: Rotary Lawn Mowers